---
Standard Back

The plush leather back pictured on the right is designed for lower back support. The high density foam and horizontal kidney bar add even more comfort to your seat.


$70.00
plus $20 S&H
(if ordered separately)
---
Mid Back

The mid back design by SoundSeat adds comfort and support to the middle back. As always, SoundSeat uses only top grain leather. The mid back design is removable and will interchange with all existing seat models.


$90
plus $20 S&H
(if ordered separately)


Mid Back and Standard Back
---
Custom Embroidery
Have your name and/or band name embroidered on your seat for an additional $25 per panel for standard font. For instance, the custom embroidered seat pictured above was made for Richie Hayward of "Little Feat". We can also stitch digitize and make your logo ready for embroidery. Call for quote for digitization.


Seats with custom embroidery cannot be returned unless defective.

Customize your seat with your company logo -
it's great advertising and adds a nice professional touch.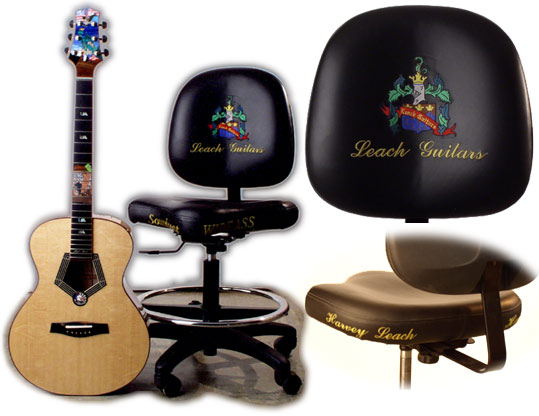 The seat featured above was made for Harvey Leach of Leach Guitars, the premier luthier in custom inlay guitars. Check out his work at www.leachguitars.com. As you can see, SoundSeat can recreate just about any logo you need, call for a quote.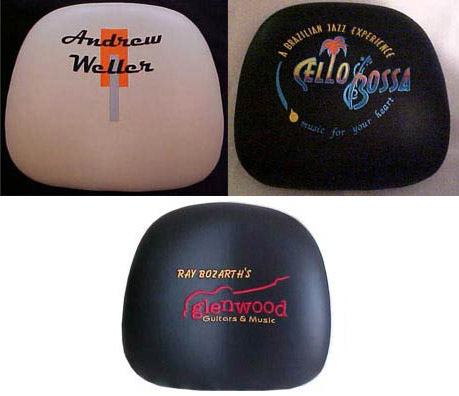 ---
SoundSeat Upholstery Color Selections
PLEASE NOTE: We are in the process of updating our upholstery color selections. There are some new colors available which are not pictured below, and a few that are pictured that we no longer offer. You may contact us at 704-636-3560 or info@SoundSeat.com for more information on color selections.
In addition to our standard black, all SoundSeat models are now available in any of the colors listed below at no additional charge.
Click here to see enlarged view of leather color samples
Please note: these color samples are shown solely as a guideline. Due to variations in individual monitor quality and settings, your display may vary from the actual color.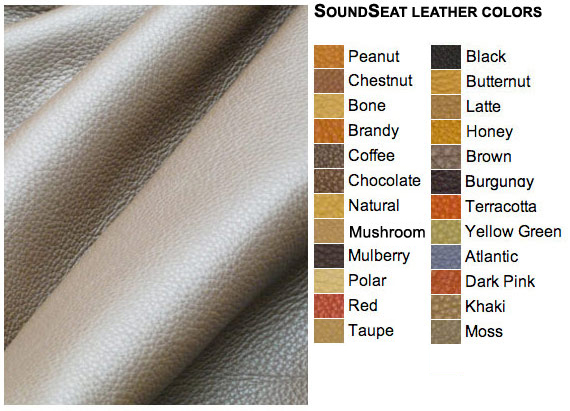 ---
SoundSeat Guitar Stool Retractable Foot Plate
J.R. has done it again! After many requests for a foot rest larger than the standard foot ring, J. R. has come up with the retractable foot plate. This device, which attaches easily to the foot ring, extends out when you wish to have a larger foot rest and retracts when no longer needed. The perfect compliment to the SoundSeat Guitar Seat, for even greater playing comfort and enjoyment.

Retracted out of the way


Extended for play

$55
(plus $15 S&H)



"They took the best music chair ever made, and made it even better."
Guitarist Michael O'Dorn
Chet Atkins Appreciation Society, Nashville, Tn.
July 2007




---
Replacement Gas Lifts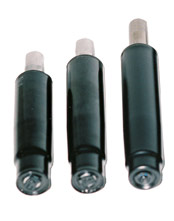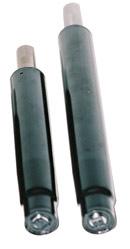 Replacement Gas Lifts
$35
(plus $15 S&H)
70 MM, 80 MM, 100 MM, & 140 MM, 200 MM, 270 MM
---
Optional Gas Lifts
Screw Type Lift

If you prefer not to have the "bounce" of a gas lift but enjoy having the stability of the five star base, the Screw Type lift is the answer for you.



$35 if ordered separately
plus $15 S&H
Only availabe in 80MM and 140MM
---
Casters and Glides

Casters


Each- Set of 5
$25
(plus $15 S&H)


Glides


Each- Set of 5
$25
(plus $15 S&H)
Tall Glides shall be shipped on all orders for glides unless otherwise specified in the comments section of the order form.





---




Chrome

SoundSeat is now offering chrome back bars and gas lifts for an additional $20 per chair.

Replacement Chrome Gas Lifts.
Add $10 if ordering a chrome gas lift for any seat.
$45 if ordering separately
(Plus $15 S&H)
80 MM, 100MM 140 MM, 200MM, 270MM

Replacement Chrome Back Bar
Add $10 if ordering chrome back bar with any seat.
$20 if ordered separately
(Plus $10 S&H)

When ordering a chrome gas lift and/or a chrome back bar with your chair please add $10 per item to your total price and place a note in the Comments Section of the Order Form as to which chrome items you would like.




Chrome back bar and gas lift





---






Gas Lift Guitar Seat with Mid Back, Chrome/Polished Aluminum


Polished Aluminum Base

In addition to our standard black base, SoundSeat is now offering a polished aluminum base.

If ordering the polished aluminum base with your seat add $45 to the total price and place a note requesting the aluminum base in the Comments Section of the Order Form.
$50 if ordering separately
(Plus $10 S&H)




Polished Aluminum 5-Star Base





---