REPRINTED WITH THE PERMISSION OF:
LittleBrothersBlues.com
August 2006
The NEW Sound Seat Footrest Option
Well it was time to order a new Soundseat and they sent me one with the new foot rest add-on option. Players have been asking for this as an option and Soundseat has come through with a sturdy device that installs onto any existing soundseat foot ring. They asked me to test it and give them any helpful feedback but from what I can see the foot rest is a well designed option and should work great. I've spent a day or so using it with great results. It's not the exact same feeling or playing position as a classical guitar player with a foot rest on the floor but it's very comfortable and may be the perfect solution for most players needing one.

The footrest on my chair measures about 9" inches from the floor. The toe tip end of the foot rest sticks out about 5-6" inches from the center horn of the chair. Total size of the footplate is 11.5" long and 6" inches wide and it's made of sturdy aluminum. It's removable from the chair but you normally would leave it on during transport. It's also reversable for left or right handed players. Plus some players like to play with the guitar resting on their left leg while others use the right. In my case the guitar sits on my left leg when I play so I reversed the footrest by loosening the bolt and flipping it over. The bolt and washer holding the footrest prevents it from spinning around and holds it in place when in the storage position (shown below).

You may also notice I've chosen the wider diameter footring on my chair which does hold the footrest farther out. I'm not sure if I would like the footrest on the more narrow foot ring. It might not stick out far enough. Compared to a classical guitar position this option and my chair tend to hold my leg pretty high compared to the other one on the floor. My knee bends and my heel tucks slightly underneath the chair. So there are many times where I'm going to be more comfortable not using the footrest. The good news is how easy it is to deploy and store.

Summary: This will more than likely be a must have for most Soundseat owners. The quality seems to be there and the design seems to be a good one.

WARNING: The footrest is strong but it's not intended to hold your full body weight or be used to step on and off of the chair. There is a warning sticker that comes on the footplate.

Below are photos of my new break down model chair with the footrest deployed and stored away. Another great innovation from our friends at Soundseat.

Back to the main Soundseat review.
REPRINTED WITH THE PERMISSION OF:
LittleBrothersBlues.com
August 2006
The Sound Seat
"Best piece of gear I've gotten in years"
New! See the foot rest addon option
Words can't describe the first time I used my SoundSeat on a 3-4 hour acoustic gig. I play solo for hours sitting in front of audiences and it takes a huge toll on my legs and back. Over the years I've become less capable of recovering without bouts of back pain and other ailments but all that went away with the arrival of my SoundSeat. I went for years wanting one but always found some excuse not to pull the trigger.

After examining the features and options on several other player's SoundSeats and came to the conclusion that I needed the wide seat and also the wider foot ring to rest my feet on and the gas shock with adjustable height that would work not only as a chair on stage but also in the recording studio and office. Now I'm tempted to replace every chair in my office with Sound Seats. My wife even wants one for her desk now. Let me explain how I decided which model and options to choose. This might be one of the smartest purchases you'll ever make for comfort, health and functionality.

First of all the ordering experience and customer service from J.R. and the SoundSeat company is outstanding. They even call you on the phone to make sure your package arrived and assembled with no problems. They go overboard making the customer happy. All this for prices that are pretty amazing for the quality chair you receive. This is the nicest leather chair I've ever owned of any type and it soars past all of the deluxe drummer thrones on the market. I can't count how many 200-300.00 drummer thrones I've seen break and the owner can't find parts to fix it. All that money down the drain for 2-3 years of usage. If they only knew about the SoundSeat.

I started off with the basic chair and added the wide seat option, custom height gas shock and the wider foot ring which is fully adjustable for height. I also ordered both the rolling casters and the regular non-rolling slider feet. I passed on the arms since I play guitar and dont need them. I can always order them as an add-on. I stuck with the standard black leather but I did order a second SoundSeat for my mentor and friend in a special yellow leather that was custom ordered. He has been using a yellow wooden stool to play on for decades and now he has a yellow sound seat.

We also had "Route 66" and his name embroidered onto the seat back. He was thrilled with the gift and plays on his SoundSeat 3-4 times per week now. He's 80 years old and I am hoping this chair will add more years to his playing career.

The quality of the seat is apparent when you unpack and assemble it but the real treat is the type of high density foam in combination with the supple leather which gives a level of padding and comfort you simply cannot find in any other chair at any price. I did find that during recording sessions it's a good idea to remove the back and simply sit on the stool portion of the chair. This eliminates any possibility of background noises and gives me the comfort I need during extremely long sessions. When I record I have to sit extremely still while playing and this puts an enormous amount of strain on my legs, back and rear end. Before the sound seat I would record for 2-3 hours and became sore for days. Now I have no problems since I began using the Sound Seat.

One of the nice features of this chair is how the back can be adjusted for depth so that it fully supports your back during the gig. I chose the wider seat cushions and I'm very happy I did. I also use the chair to sit at my desk for 8 hours a day and it makes the best office chair ever. Unlike countless other expensive chairs this one also seems to remain just like new month after month. They have some other options such as a chair that breaks down and stores for travel but I am having no problems removing the back and carrying this chair everywhere I go. I can also rotate as I sit and play and this comes in very handy. Especially when I turn around to adjust the PA or amplifiers on stage. One of the best pieces of gear I've ever had and I'm sorry I waited 2-3 years to get one. Thanks J.R. and the Soundseat team. You were right all along. Keep up the great work. If you contact SoundSeat tell J.R. I sent you please.

I'm sitting on my Sound Seat as we speak.... AHH !

Although you can't see the SoundSeat hiding behind his coat it's there. This is one of my greatest musical mentors and a great man.. Mr Eddie Tigner. He's in the Georgia Music Hall of Fame and one of the members of the Original Inkspots. He's known for playing on a yellow wooden stool but now he uses a Yellow SoundSeat. His chops are better than any 35 year old and he can play the whole band under the stage.
REPRINTED WITH THE PERMISSION OF:
Just Jazz Guitar
May, 2006
Upgrade your seat to first class.
By Dennis Keefe
Back in my days on the bandstand, I always started to envy the drummer as the evening wore on. There I was, standing in one place on my swelling feet, or sitting in a grammar-school lunchroom castoff chair, while the drummer sat contentedly on his wellpadded, specially-designed seat. They don't call it a drum throne for nothing.
Well, it's about time someone created a guitar throne. J.R. Baker, a drummer himself, took pity on other musicians, and after tearing apart the best task chairs he could find to study construction and ergonomic concepts, he developed the SoundSeat series of musician's chairs. And magical things they are! Pardon my enthusiasm, but these seats are a transcendent relief to someone who has played uncomfortably -- sitting and standing -- for more decades than bear mentioning.
At first glance, the SoundSeat looks superficially like an office task chair. It's got a stable five-leg base with a choice of fixed or caster legs. The well-known gas strut system provides height adjustment with the flip of a lever. The seat back options and adjustments resemble those on highend office chairs.
But that is where the similarity ends.
The crucial element of any chair -- where the posterior meets the padding, so to speak -- is where J.R. has made the essential changes. The shape of the seat is like a greatly enlarged bike saddle or tractor seat, except the frame underpinning the seat is carefully shaped to provide balance and support while bearing an instrument in your arms. It is molded under pressure from a nineply, 9/16-inch piece of plywood that follows the curvature of the human anatomy while sitting upright. The front area drops a bit to allow the legs better circulation, and the cutbacks for each leg allow one or both legs to sweep back slightly. This addresses the uncomfortable problem of having to sit on the edge or corner of a traditional chair to achieve a balanced position over your guitar.
This shaped frame is covered with a deep padding of high-density, injection-molded foam, and both the top and sides are covered with topgrain, aniline-dyed leather. The result of this luxurious treatment is a seat that will not bottom out against the wood or make you sweat and that remains comfortable and supportive, hour after hour.
There are several models of the SoundSeat, each aimed at different musical uses. Here's a basic model list, each incorporating the crucial custom-shaped seat:
Remembering from whence he came, J.R. offers a seat for drummers with or without the back. How many drum thrones are available with leather?


Add a supportive leather-covered standard- or mid-back to this, and you've got a high-endurance seat for guitar, orchestral instruments or keyboard.


A set of detachable arms moves the seat into the realm of anyone whose instrument can be held out of the way of armrests or who operates sound or light boards.


Performing guitarists who want to sit higher for better visibility and leg extension might choose the SoundSeat Guitar Chair with with the sturdy foot ring.


And, if you get to where you just have to take your comfort with you, there is a break-down version of each of the models that quickly disassembles and packs in an available bag.
For those of us with more ... substance É to rest, J.R. super-sizes all of the above chairs with the MP Series SoundSeats. The shaped seat in this group is two inches wider and two inches deeper and comes with the larger mid-back.
Customization options include a good selection of leather colors, the ability to match an existing leather shade, various height gas and mechanical lifts and available custom embroidery. (Perhaps putting your name on your seat will be the only way to keep others out of it!)
The prices are very reasonable -- you could easily pay three times as much for an office chair of this quality. And if you need to justify the purchase, add the removable arms and the chair doubles nicely as an extremely comfortable and functional office chair.
The SoundSeat ships with easy-tofollow instructions and assembles without tools in less than five minutes. J.R. even follows the delivery date with a phone call to make sure all is well and that you are happy with your chair.
If you want to rid your practice and playing time of the distraction of discomfort, give J.R. Baker a call at 704.636.3560. He'll help you put together a SoundSeat that will fit your fundament. The website at www.soundseat.com will show you all the models and accessories to discuss with him.
REPRINTED WITH THE PERMISSION OF:
International Musician Magazine
November 2005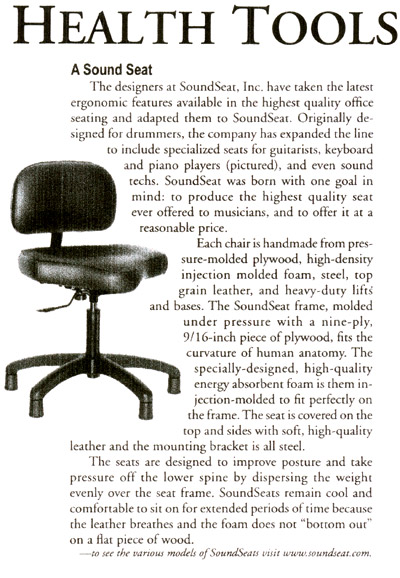 REPRINTED WITH THE PERMISSION OF:
Making Music Magazine
September/October 2005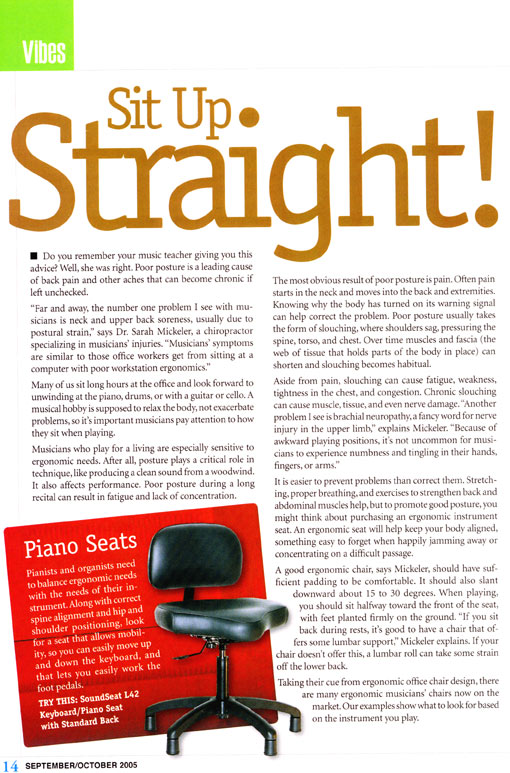 REPRINTED WITH THE PERMISSION OF:
Salisbury Post
May 22, 2005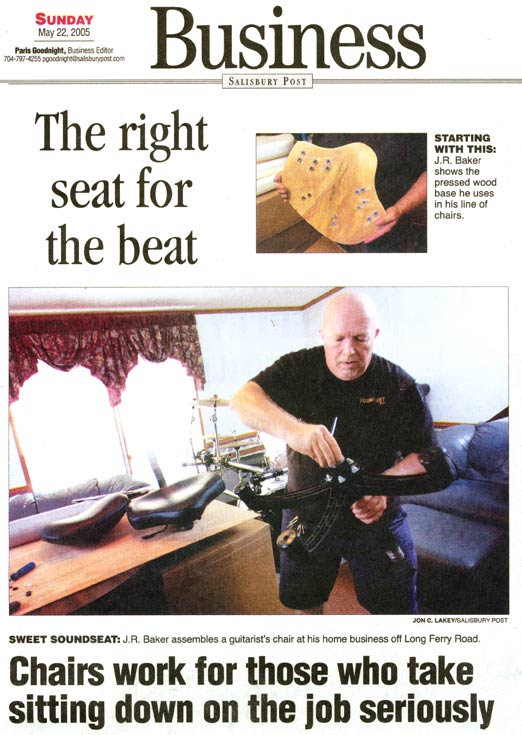 REPRINTED WITH THE PERMISSION OF:
Modern Drummer Magazine
July 2003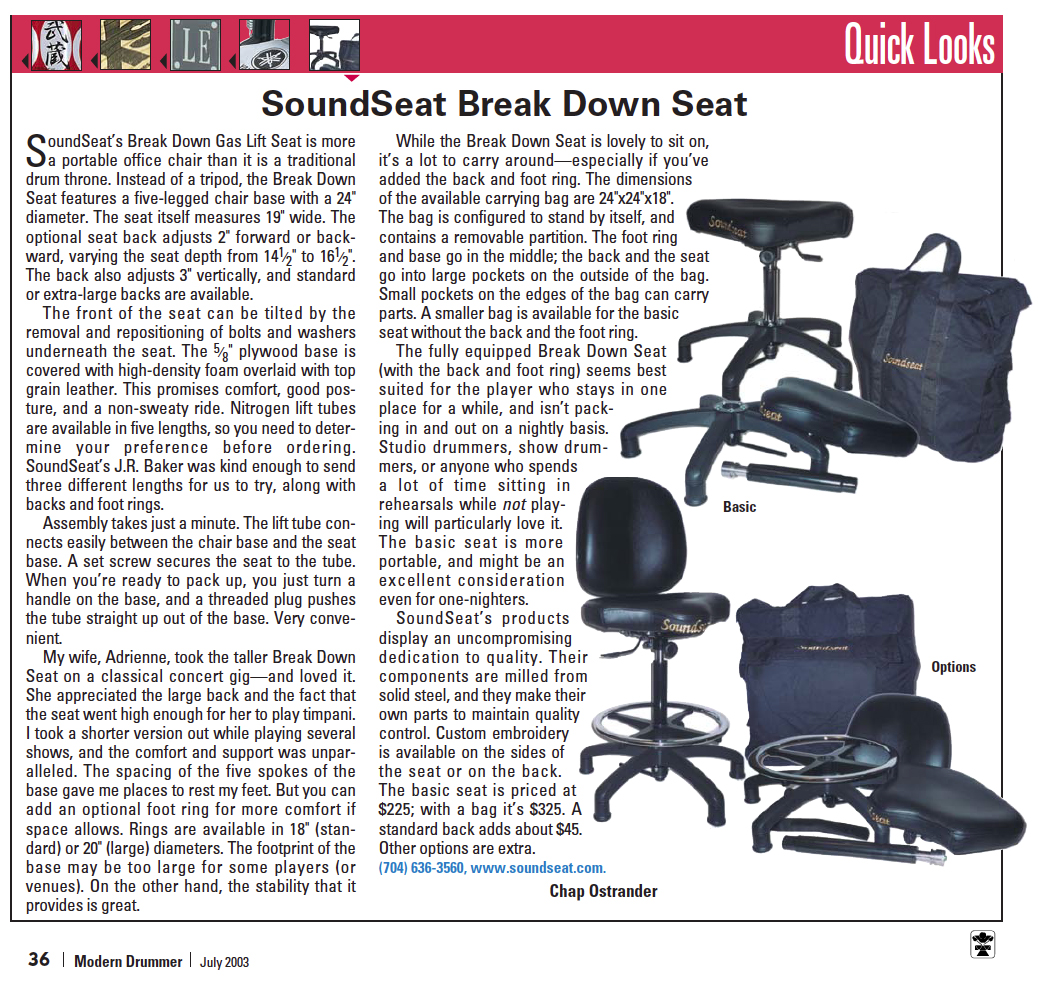 REPRINTED FROM:
Acoustic Guitar Magazine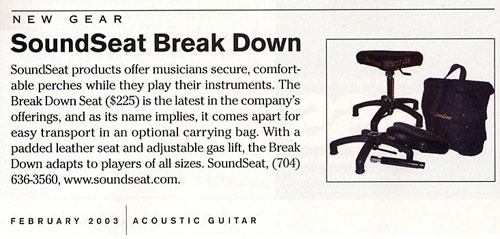 REPRINTED FROM: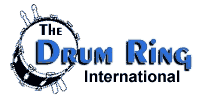 SoundSeat
Break Down Gas Lift Seat
PRO: High quality leather seat, Comfortable, breaks down quickly, fully adjustable, heavy duty design, carrying bag and leather seat back are (optional). Custom embroidery available.

CON: Expensive, bulky to transport, large footprint with drum setup. Range of height adjustment must be predetermined when purchasing the gas lift.
---
SoundSeat
TM
has taken the latest ergonomic features available only in the highest quality office seating and adapted them to the "Wide Ass"
TM
seat. Although J.R. Baker originally designed the "Wide Ass" for drummers, SoundSeat has expanded the line to include seats for guitarists, keyboard players, sound techs, or any other application where a person must be seated to work.
---
When the huge box with the above SoundSeat arrived at my house for this review, I thought to myself, "why would I ever want such a enormous chair?" But after I opened the box, taking several moments to examine the parts, put it together, and take a seat, I thought "why wouldn't I want to own such a chair!" From the first moment I sat down on the SoundSeat, I knew it was going to be something special.
The chair that I reviewed is just like the one pictured above, with the two exceptions: the (optional) back rest is not shown, and I reviewed the "church" model ... which doesn't have the words "Wide Ass" embroidered on it.
What do you get?

The breakdown throne comes with three parts; a base, a seat, and the gas lift shaft. The chair base looks to be like that of a standard office chair; 5 contact points with the option of casters, standard or extra tall glider ends. This model came with the standard glider ends. There was never an issue of the chair creeping while playing, which was a very pleasant surprise ... but it was also easy to move along the carpet ... when you wanted it to move. In the break down model (which is the one being reviewed here), there is a threaded lever in the bottom of the base, which is used to release the gas lift from the base (see photo at top of review).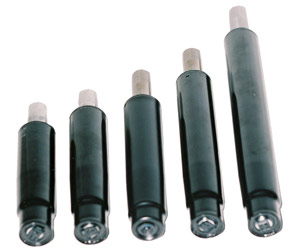 The gas lift is a really nice feature with the SoundSeat chairs. If you are like me, you're probably a little hesitant about purchasing a gas lift chair. So many other manufactures have tried using gas lift chairs for drummers ... and failed. It always seemed that the gas lifts would break or fail to function properly, so why bother? Well, SoundSeat's gas lift is different in that they leave the entire lift mechanism in it's heavy black casing. Not only does this seem to create strength in the chair, but it also keeps the lift in it's original state ... the way it was designed to be used. If you are still concerned out wearing out the lift, you'll be happy to know that you can purchase additional lifts for $15.00 (plus shipping).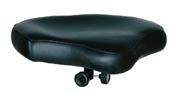 Last but not least, is the seat itself. The SoundSeat seat frame is molded under pressure from a 5/8" piece of plywood to fit the curvature of the human anatomy. The highest quality energy absorbent foam is then injection molded to fit perfectly on this frame. The seat is covered, top and sides, with soft, high quality, top grain leather (with embroidery). The mounting bracket is all steel. The SoundSeat seat measures 19 inches wide and 16.5 inches deep (nose to tail). The undercarriage is designed in such a way that if you need to adjust the tilt, you can do so in a permanent fashion by adding or removing washers. The lever used to operate the gas lift is also attached to seat's undercarriage, so you don't have to worry about losing it.
Put it all together now
Assembly took about a minute, once I finished with the brief, yet detailed, Assembly Instructions provided with my SoundSeat. All you do is make sure that the lever in the bottom of the base is loose (to allow for the lift to seat properly), insert the gas lift into the base, then place the seat on the tapered end of the gas lift. You need to sit on the seat with your full weight to insure that all the parts have locked together. You'll also want to tighten the seat screw which keeps the chair on the lift; just incase you decide to pickup and move the chair.
Sit on it
I noticed very quickly that this was no ordinary drum seat. Within seconds I was able to set the height to exactly where I wanted it while sitting behind my drumkit. There's no having to get off the seat, spin it a few times, then check again to see if you've got the correct height. After about a minute of using the SoundSeat, I slid back over to my Roc-n-Soc throne ... and boy did I feel the difference. The thin, flat piece of plywood and low density soft foam found in my Roc-n-Soc was evident as I bottomed out. I had grown so accustomed to the chair than I never noticed just how uncomfortable it was after 10 years of hard use. The SoundSeat seemed to cradle my form, improved my posture by helping me sit up straight, and took the pressure off my lower back by dispersing my weight evenly over the enter frame of the SoundSeat. Now I know where the term 'drum throne" came from ... because with the SoundSeat ... you feel like royalty!
Speaking of the back
In addition to the natural back support that comes from the ergonomic design of the seat, there is an optional standard back rest which I also test drove. The plush leather back with high-density foam and horizontal kidney bar added even more comfort and support. You can adjust the seat back in a number of ways; all the way out so that it doesn't touch your back unless you lean backwards, to all the way forward giving you the additional back support as you play. I did find that the seat back didn't quite come forward as far as I might want it at times.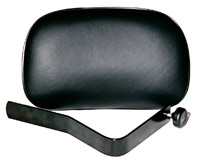 SoundSeat's owner, J.R. Baker, informed me that all the future seat backs will come with an additional adjustment thread, making it possible to come forward approximately one more inch. I don't know if you would say this is actually a negative thing, but some drummers may like to play while sitting on the very front edge of the seat. If you are one of these individuals ... AND ... you want the back rest to push against while in this position, I'm not so certain that you'll be able to achieve this, even if the back rest comes forward another inch. Actually, this would only be the scenario of a thin individual, like myself, but the likelihood that this would pose a problem for the average drummer is doubtful. All in all, the seat back is a nice optional feature, and one that I would definitely recommend.
On the case
There is also an optional canvas bag (see photo at top of review) that came with my SoundSeat. For those that don't plan on transporting your chair anywhere, it's nice to not have to invest in something that you won't need, like the bag to carry it all in. Since I'm reviewing the break down version of the gas lift chairs, it only makes since to have a bag to carry it in. You're going to want this bag! The bag dimension is 24 inches wide and 24 inches high. When fully packed, including the seat back, the bag expands to be approximately 18 inches deep. This is no small package, and you're not going to be taking this on fly dates with you. But if you are touring drummer, or session drummer, spending long hours in the chair ... you know how important your throne is ... so you'll do whatever it takes.
The black canvas (embroidered) bag comes with everything you need to transport and protect your chair. There's a canvas-covered divider, which is used to separate the seat from the base, as well as individual little canvas bags (closed with Velcro) for the gas lift and the seat back arm. You don't want metal objects rubbing that soft leather do you? Besides the heavy-duty zipper to close up the bag, you'll find three pockets along the side of the bag, perfect for spare drum parts. The bag has what you'd expect for handles; standard canvas straps. What I would have liked to see is a shoulder strap. Even though the bag may be a bit big for shoulder carrying, it would be nice to have the option. If you plan on transporting this monster, you'll definitely want to spring for the bag.
How much?
All this stuff sounds kind of expensive doesn't it? Well ... it is! SoundSeat doesn't try to hide the fact that their seats are expensive. They have a clear understanding that quality costs money ... and they believe that they make the finest seating for musicians. If you check out their website, you'll find a side by side comparison with the Roc-n-Soc. And if the gas lift package is just too much for your budget, you can pickup the SoundSeat Retro-Fit seat which will fit on your existing throne stand, as long as it has a 7/8-inch shaft.
Recommendations
If you are looking for a new drum throne, you need to check into this chair. If you've got back problems ... you need to check this seat out. It only makes sense to make wise invests, and the SoundSeat is just that. I hate making a purchase, only later having to repair or replace it in a short amount of time. I am confident that you will NOT be replacing the SoundSeat any time within your lifetime. With proper care, this chair will last forever!
I have never felt so comfortable sitting at my drumkit. I was able to get around my 6-piece kit and not have to lean forward or reposition myself during the process. Even while checking out the chair for this review, the time passed by so quickly that I had no idea I had been sitting on the throne for over two hours! I got caught up in the moment and just had a blast!
The drum throne is the most important part of any drumkit; not only for comfort ... but for good health and posture ... so why abuse your body with lame drum throne? This is why I highly recommend the SoundSeat Break Down Gas Lift Chair for drummers. I'm buying one now, and plan to pick up another for my other kit, as well as one with casters, large seat back, and arms, just so I can use it while I'm at the computer ... it's that comfortable!
At the writing of this review, SoundSeat is offering a 15% discount, which will run until the end of 2002. Be sure to tell J.R. Baker that you heard about his SoundSeat right here; he just might extend the discount period for you.
For more information on this and other SoundSeat products, visit the SoundSeat website at www.SoundSeat.com.
- Bart Elliott, founder
Drum Ring International
host of the Drummer Cafe
---
---